Mirror Group hacking denial added 'insult to injury'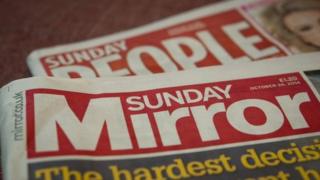 Mirror Group Newspapers "added insult to injury" by giving a "deliberate impression" it had not engaged in phone hacking, the High Court has heard.
MGN has acknowledged that 99 stories in the Mirror, Sunday Mirror and the People were published as a result of hacking voicemails on phones.
Eight claimants have asked the court to set damages against MGN.
MGN employees had made "disingenuous statements" suggesting nothing illegal had taken place, the court heard.
David Sherborne, speaking on behalf of the claimants, also said MGN's comments were "deliberately crafted".
The eight claimants are TV executive Alan Yentob, soap stars Shane Richie, Shobna Gulati and Lucy Benjamin, former footballer Paul Gascoigne, actress Sadie Frost, TV producer Robert Ashworth and flight attendant Lauren Alcorn.
Mr Sherborne said that in June 2013, Paul Vickers - then a Trinity Mirror executive - told the Culture Media and Sport Select Committee that "we have done a huge investigation and to date we have not found any proof that phone hacking took place".
The court heard earlier that hacking was "rife" throughout MGN's three national publications and carried out by journalists, senior journalists and members of the editorial staff.
The case continues.