Banker Karl Pestell lost job 'after raising risk concern'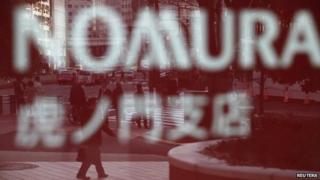 A banker who claims he lost his job after raising concerns about his employer has lost a preliminary hearing at an employment tribunal in London.
Karl Pestell, 48, says he was made redundant last month by the Japanese bank Nomura after telling his managers that financial risks were not being properly assessed.
Nomura says he was made redundant as his role was being moved to India.
The tribunal judge made the preliminary ruling that the firm should not have to pay his salary while the case progresses to a full tribunal.
Mr Pestell is claiming age and disability discrimination, and unfair dismissal.
The married father-of-two, from Chelmsford, is taking his former employer to a tribunal, in an attempt to return to his previous role, in which he earned £177,500 in salary and bonuses in the last financial year.
'Cards marked'
In the preliminary hearing, Mr Pestell had applied for interim leave, in which the judge at Central London Employment Tribunal could order the company to give him his job back or pay his salary while the case progresses through the tribunal system.
To do this, the employment judge must be satisfied it is "likely" Mr Pestell would win.
But this application was turned down and the case will now be heard at a later date.
The tribunal heard that Mr Pestell's "cards were marked" when he raised his concerns at a meeting in November 2013.
He was told he was at risk of redundancy 11 months later and he lost his job on 16 February this year.
James Laddie QC, representing Mr Pestell, told the tribunal that by highlighting the shortcomings of the bank's system to monitor risk, his client's manager felt "he could not be trusted to be someone who would toe the line".
"The redundancy - that is no more than a cloak to disguise the true reason for the termination of employment," Mr Laddie added.
Capital cover
In documents submitted to the tribunal, Mr Pestell said Nomura had been using "stale" ratings - some dating back to before the 2008 financial crash - to make their assessments of risk.
He said this could mean the bank may not have enough capital to cover the risk.
Mr Pestell gave a presentation in November 2013 to his managers to highlight this.
This stated that he believed that 1,551,895 trades were mapped incorrectly. He also said it is essential the bank and its investors know the full extent of the risk it is exposed to.
Mr Pestell, who worked in the City for 27 years, said he often worked 80 hour weeks.
He suffered a severe brain injury which left him with memory and attention problems and cognitive difficulties after a road accident in 2011.
He claims his disability and age of 48, which he said is "old for the City", contributed to his alleged mistreatment.
Nomura denies the allegations, and the tribunal continues.
An earlier version of this story reported that the judge had ruled Mr Pestell's claim should go to a full tribunal. In fact, it was always the case that it was expected to proceed to a full tribunal.