Ukraine crisis: UK government supplies military equipment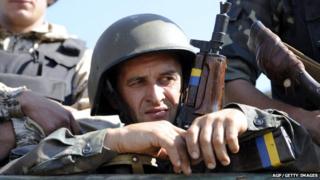 The UK is to supply Ukraine with £850,000 worth of non-lethal military equipment, the government says.
Defence Secretary Michael Fallon said the package would include first aid kits, night-vision goggles, helmets, GPS units and "ruggedised" laptops.
On Thursday, the foreign secretary flew to Kiev for talks with its president, prime minister and foreign minister.
Last week, David Cameron said British military personnel would be sent to the country to provide advice and training.
In a written statement to the House of Commons, Mr Fallon said that the UK's gift came in response to a request from Kiev for help with basic equipment, supplies of which have been depleted by months of instability caused by Russian-backed separatists in the east of the country.
Mr Fallon said: "This government is committed to supporting Ukraine's sovereignty, independence and territorial integrity.
"Our proposed gift of non-lethal equipment is designed to prevent further Ukrainian fatalities and casualties and to help improve situational awareness on the ground."
---
Breakdown of kit
2,000 helmets
1,000 first aid kits
220 laptops
150 pairs of night vision goggles
200 positioning units
Source: MoD
---
He added that despite a reduction in violence in the conflict zone following a ceasefire agreement, fatalities and casualties continue to affect Ukrainian armed forces.
He said: "Russia's illegal annexation of Crimea and its destabilising activities in eastern Ukraine, including direct military support to the separatists, have demonstrated its disregard for international law."
Last week, David Cameron announced 75 British soldiers divided into four teams would go to an area away from the conflict zone to provide medical, logistics, intelligence and infantry skills.
On Friday, EU foreign ministers were due to hold an informal meeting in the Latvian capital Riga amid fears among the Baltic states that Nato and the EU are moving too slowly to counter Russia's actions.