Independent MPs - can they make a difference?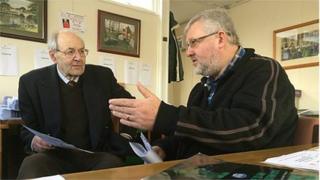 As the general election nears, hopes of influencing government policy are rising. But is it more effective to run for parliament as an independent, campaign on single issues, or demonstrate against the system?
The closest most of us get to affecting politics is putting a cross on a ballot paper. Some though actively try to change the way our governments behave.
I went to the constituency of Wyre Forest to find out whether independent candidates can make a difference.
In a small wooden shack, painted a fading green, with little heating, a whole stack of election leaflets are waiting to be delivered.
This is the constituency office, the headquarters if you like, of arguably one of the most successful independent candidates of recent times.
Dr Richard Taylor stoops as he holds out a hand of welcome and ushers his guests towards a circle of chairs.
"My wife's made sandwiches," he says, gathering the triangles from the windowsill.
His visitors have come from Wales. A delegation led by Chris Overton, another doctor, who has decided to stand this year for parliament in an attempt as he puts it "to save our hospital."
Which is where Dr Taylor comes in. He was elected to parliament on a 'save our hospital' ticket not just once, but twice. First in 2001 by a landslide (he won 58% of the vote) and then again in 2005, this time with a reduced majority.
"The reason that he got in here was this hospital," says one local man outside Kidderminster General.
He and his wife were among the 28,487 people who voted for Dr Taylor - who was a physician in the hospital when the A&E unit was closed in 2000 by the Labour government.
Big issues
"You sort of feel obligated to try and do your bit to keep the hospital open," he says. That's what we've done."
So can an independent candidate make a difference? "I shouldn't think they'd make a great deal of difference, not to the big issues."
Dr Taylor disagrees. No, he didn't get the A&E reopened, but as he points out: "I said I was going to campaign for it, I never said I was going to be successful."
What did he achieve as an MP? "I was very lucky to get onto the Health Select Committee," he says. "I was instrumental in organising several of the inquiries we produced."
But he laments, the reports were shelved - "gathering dust" in his own words.
Still, Richard Taylor is running again this year - campaigning to save the NHS as a whole. He helps lead the National Health Action Party - which is fielding candidates in 12 constituencies.
"The dream is that if we get a government with a much smaller majority," Dr Taylor says, and if "I get back, and several of the National Health Action Party people got in, then we could actually make a difference and get a government to turn round on what they're trying to do to the NHS."
Others, though, believe they've found a better way of influencing policy.
Four bongs from Big Ben set the scene, as a group from Citizens UK enter the parliamentary offices at Portcullis House by the Thames.
Candidates' pledge
They're here to meet a Labour MP. Citizens UK is a community based organisation.
It involves members of the local community - from schools, churches, and other institutions - meeting their local MP, or candidates running in their area and trying to persuade them to support specific policies during the next parliament.
This year they are trying to get candidates to sign up to a pledge on improving social care and ending the indefinite detention of migrants.
The more candidates who sign the piece of paper - the better chance the group believes they will have in the next parliament of pushing through these policies.
They've already had huge success establishing the living wage. Stefan Baskerville from Citizens UK worked on that, among other issues.
He doesn't think they would have been so successful in launching the living wage if they'd decided to set up a political party campaigning on that issue.
"The barriers to entry for new political parties are extremely significant," he says. "The established parties have a huge advantage.
"Through the way that we organise we've been able to get change at a national level over the course of the last ten years in a way that probably is very difficult to achieve for someone who is trying to set up a new political party."
Not that Citizens UK would - he says - set up such a party. That's not how they operate.
Nor is it how others work either.
When Occupy took over the steps of St Paul's Cathedral several years ago they hoped they were starting a movement that would challenge the whole democratic system.
Biggest achievement
Since then they've rather faded from view. This year they're planning Occupy Democracy - ten days of protest outside parliament around polling day.
Aisha Dodwell will be there. And she dismisses the suggestion that Occupy as a movement ultimately failed to engage people.
"Since it started one of Occupy's biggest achievements is that it has brought to the public consciousness this idea of the one percent and the idea of the 99%."
"I think it would be wrong to say we went away - I think we are making progress."
Back in Kidderminster the new doctor in town is also, he hopes, making progress.
"I'm not in any way political," says Chris Overton over the sandwiches.
"I'm not really interested in politics, I am here because I want to save the NHS because it's dear to me."
As for Dr Taylor, support may be slipping. Polling suggests UKIP is the main party of protest locally now. He says he's not worried.
"It's very, very hard to read this constituency. The Tories are the natural party to win here and whether UKIP will take their votes or our votes we just don't know."