DJ Neil Fox arrested over sexual assault allegation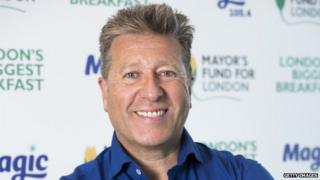 Radio DJ Neil Fox has been arrested over an allegation that he sexually assaulted a woman in the early 1990s.
It is the third time in six months he has been held over sexual assault allegations.
He was arrested after voluntarily attending a central London police station on Friday and has been bailed.
Mr Fox was first arrested in September 2014 over four alleged sexual assaults and then again in December for three further alleged sexual assaults.
At the time of that arrest, he said he "strenuously" denied the allegations and that he was "extremely upset".
Bail date
When Mr Fox was first arrested on 30 September, the Metropolitan Police said four allegations of sexual assault had been made.
Three of those allegations were described as historical but no time frame was given. One allegation was said to have taken place earlier in 2014.
Police searched properties in west London and the Littlehampton area of West Sussex as part of that investigation.
Mr Fox returned on bail to a police station in December when he was arrested again over new allegations involving different women.
Two of those related to events said to have happened in the 1990s with the third dating from 2007.
Following Friday's arrest, the DJ has been further bailed to return to the police station on a date in late March, pending further enquiries.
TV role
Mr Fox, who uses the nicknames Dr Fox and Foxy, began his career in local radio before moving to Radio Luxembourg and then London's Capital Radio in the late 1980s.
He presented various slots there and in 1993 landed the job of presenting the Sunday afternoon Network Chart Show, later known as the Pepsi chart.
His big TV break was as a judge on ITV talent show Pop Idol between 2001 and 2003 alongside Simon Cowell, Pete Waterman, and Nicki Chapman.
He left Capital in 2005, joining Magic 105.4 to present the breakfast show, Foxy in the Morning.
He is currently not hosting the show.
---
Allegations against Neil Fox
30 September 2014: Arrested over four alleged sexual assaults against two women. Three allegations described as historical - fourth said to have happened earlier that year
8 December 2014: Returns on bail to central London police station where he is arrested on suspicion of three more alleged sexual assaults involving different women. Two of alleged assaults said to have happened in the 1990s - third said to have happened in 2007
13 March 2015: Voluntarily attends police station in London and is arrested again over a further allegation of sexual assault, against a different woman, which is said to have happened in the early 1990s
---