Royal reporter paid soldier for Prince Harry stories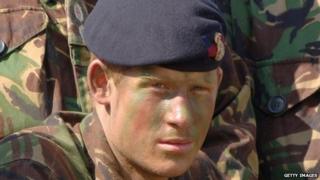 A former News of the World royal reporter has been convicted of using a soldier in Prince Harry's regiment as a paid source.
Ryan Sabey, 34, was on trial at the Old Bailey accused over payments made to former soldier Paul Brunt.
The court heard Brunt, 32, was paid more than £16,000 for stories about the prince over 18 months from 2006.
Sabey was convicted of aiding and abetting Brunt to commit misconduct in a public office.
His conviction in February can only now be revealed for legal reasons.
He is the third person to have been found guilty of corruption charges linked to payments to public officials.
Brunt, of Kentish Town, north London, was found guilty by a majority verdict on two counts of committing misconduct in a public office through his dealings with the News of the World (NotW) and the Sun.
The pair, who are on bail, will be sentenced on 27 March.
'Extremely important contact'
The court heard how Brunt was paid for information and pictures that led to stories being published and received more money simply to "keep him sweet" as a valuable contact.
He got £5,000 for a picture which resulted in a 2006 story in the now defunct Sunday tabloid entitled 'Swastika Shame Of Harry's Regiment' and also provided information about Harry's deployment to Iraq and Afghanistan.
News International's own accounting records showed the payments being made, with £9,450 from the NotW and £7,200 from the Sun, the court heard.
According to the prosecution, Sabey, of Bethnal Green, east London, sent an email in which he described Brunt as "an extremely important contact" and requested cash payments be made to him, including £1,500 for a story about Prince Harry prior to deployment.
Prosecuting barrister Julian Christopher said he "knew full well" that Brunt was not allowed to release information to the press.
But in his defence, Sabey told the court that he considered Brunt to be a "whistle blower" who wanted to expose impropriety or wrongdoing.
He told jurors that he was first given Brunt's contact details by his newsdesk and went on to have regular contact with him.
Out of seven NotW payments made to the soldier, only two were related to specific stories while others were for "good will", the court heard.