Sun reporter calls for chief prosecutor Alison Saunders to resign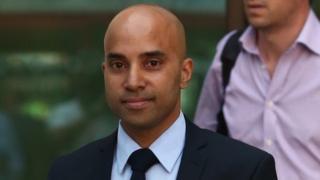 A Sun reporter acquitted of illegally paying public officials for stories has called for the UK's chief prosecutor to resign after the collapse of multiple trials against newspaper journalists.
Vince Soodin, 40, said the Operation Elveden investigation into payments made by journalists was a "witch-hunt".
Writing in the Daily Telegraph, he said Alison Saunders "must resign" over the operation's "failure".
Charges against eight other journalists have been dropped within the last week.
Mr Soodin was found not guilty of conspiracy to commit misconduct in a public office on Thursday.
One of the eight journalists who had cases against them dropped was former News of the World crime editor Lucy Panton, who was formally cleared of outstanding charges on Thursday.
Her conviction had been overturned by judges at the Court of Appeal, which led Director of Public Prosecutions Alison Saunders to conduct a review of Operation Elveden and drop charges against nine of 12 journalists.
The Crown Prosecution Service has said it will continue with the prosecutions of three Sun journalists: Jamie Pyatt, Chris Pharo and - in a separate case - Anthony France.
'Chilling consequences'
Mr Soodin, who spent 989 days on police and court bail, said the collapse of trials of journalists and also the decision not to charge former MP Lord Janner over alleged child sex abuse had "destroyed confidence" in the Crown Prosecution Service under director of public prosecutions Alison Saunders.
Writing in the Daily Telegraph, he said: "There is only one proper course of action now. She must resign."
Mr Soodin, from Greenwich, south-east London, added the cases could have "chilling consequences" for journalism.
He said: "The vindictive Operation Elveden has been a failure.
"It has netted the conviction of one journalist... but also, sadly, of many public officials who exposed information their bosses did not want to get out."