Election 2015: What's important for rural voters?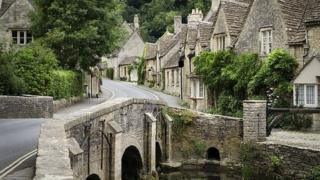 The vote of those living in the countryside is crucial in this election. Almost 20% of people in England, Scotland and Wales live in rural areas.
They contain nearly 40 marginal seats in rural areas in England alone. Most seats will be a battle between Conservative and Liberal Democrat candidates.
The Cotswolds charm tens of millions of tourists each year. It is a place that provides a rural sanctuary for billionaires. And it is home to almost 90,000 voters.
The Gloucester village of Guiting Power is the Cotswold village of the imagination. Houses made from honey-coloured Cotswold stone cluster around a village green, a shop and a couple of pubs.
Only a few hundred people live here, but it is the hub for many more who are in such a financial crisis that they are unable to feed themselves.
Opposite a field sprinkled with tottering newly-born lambs in a barn provided by a local landowner, is a food bank that has handed out supplies to around 1,300 people in the north Cotswolds over the last two years.
It resembles the storage room of a supermarket, with rows of shelves reaching well above head height. There are cartons of milk, packets of porridge, jars of jam. Food comes in, is weighed and handed out to places where people can collect it.
It is run by the Trussell Trust and staffed by volunteers, many of whom are being helped themselves.
Kenny Young climbs up on a ladder, stretching to reach some cans of custard to put in to the boxes ready to be delivered. He is a single father in his fifties: "It is really tough to make ends meet. My son is seven years old. I get food vouchers in the holidays to help out. Otherwise I would really be struggling.
"It's getting about. In the cities you seem to have everything around you." What does he want the politicians to do? "To help out people like me," he replies.
Rhian Morgan works for the Trussell Trust: "We set this up because it became clear that a number of people in this idyllic community were struggling to cope. The vast majority are low-income working families. We are seeing a dramatic rise in the numbers.
"Four years ago it was around 500 a year. That figure has almost tripled."
Another key election issue for voters in rural areas is broadband - or the lack of it.
In the southern tip of the Cotswolds in the Marshfield Bakery, staff are tipping fragrant bowls of flapjack in to trays and scooping thick of dough out of bowls.
Christopher Smith shows off a piece of equipment, a robotic arm hovering above a layer of sponge cake: "This is an ultrasonic cutter. It generates sound pulses down the blade so it cuts evenly and smoothly. If I had good broadband I could alter its settings in minutes. But I have to pay for a technician to come out."
This morning download speed in his office has been around 1.2mb, and has been as low as 0.25mb. Online operations that should take minutes on an average connection, can take hours.
The effect? 'One is cost. A member of staff is sitting there, waiting for pages to load. It's also reducing the pace at which I could grow my business. My competitors have a competitive advantage over me which they can make the most of.'
Nick Chase is with Action with Communities in Rural England: "I'm not sure politicians really understand the issues that people in rural areas face on a day to day basis. A lot of the issues are the same as urban areas. It's the solutions that need to be very different.
"Take transport for instance. It's much more complicated to get services in and around rural areas than it is to plan a new bus route in a city."
Then there is the crisis in the farming sector. Milk prices have collapsed and businesses are going under.
Danielle McNulty is 19 years old and travels the country helping farmers to rear calves. She herds one in to a pen and clamps a tag in to its ear.
She believes voters shouldn't just look to politicians for answers.
"I think you can be as optimistic as you want as long as you are willing to not just follow what the family has done for years, you have to be willing to look at the future and actually run at it."
Follow Claire on Twitter.