Royal baby Charlotte given a family name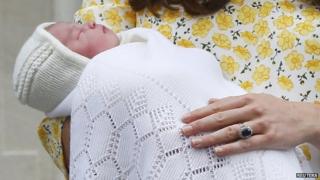 Hard facts and royal pregnancies, labours and births are not natural bedfellows.
They represent a moment where the very personal, a couple celebrating the arrival of a daughter, collide with the very public - the father is a future king.
So, we don't know why William and Kate chose Charlotte as the first name of the fourth in line to the throne.
It conveniently has links to the Middletons, the present Windsors and past royals.
Elizabeth and Diana are more obvious choices.
Prince William has spoken of how, as he becomes older, his grandmother has become an even more important part of his life.
And it was inevitable that he would honour his mother and inevitable that he wouldn't "burden" his daughter with Diana as a first name.
As William said when he gave his fiancee his mother's engagement ring, it's a way of keeping her "close to it all".