Brothers from Portsmouth accused of Syria terror offences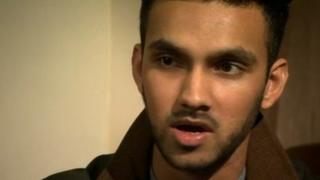 Two brothers have gone on trial accused of helping others travel to Syria to fight in the civil war.
Tuhin Shahensha, 27, and Mustakim Jaman, 23, from Portsmouth, "shared a radical belief in violent jihad", according to the prosecution.
They deny charges of engaging in conduct in preparation of terrorist acts after being arrested in October.
Kingston Crown Court heard how their other brother - Ifthekar Jaman - had died fighting in Syria.
Opening the case, prosecutor Gareth Patterson said the two men - who are British citizens - "were both at the heart of a tightly-knit group of like-minded men, a group from the Portsmouth area, men who shared the same extremist ideological beliefs and who supported the use of serious violence in order to create an Islamic state".
It is claimed the men were "very, very active on social media" with police uncovering 17,000 messages exchanged within the group over an 18-month period.
'Radical jihadists'
Mr Patterson said although the two defendants did not go to Syria, they helped five friends from their home town travel there and "later assisted other individuals from the UK to travel to Syria, providing advice, information and contacts to assist them to get into the country".
Mr Shahensha is accused of intending to fight in the Middle Eastern state, where there has been a civil war since 2011.
The court heard he tried to hide evidence by throwing away his phones when police visited his home in Southsea, Hampshire.
He told officers he thought his brother Ifthekar had gone to Turkey to learn Arabic.
Ifthekar Jaman - younger than Shahensha, but older than Jaman - travelled to Syria in May 2013 where he fought and was eventually killed, the court heard.
Mr Patterson told the jury: "You will hear evidence of how radical jihadists from this country on reaching Syria would join military training camps, how they would be issued with firearms and how after several weeks they then joined militia groups and engaged in battle.
"You will hear evidence of the deaths caused and the injuries sustained amidst the complexities of the conflict in Syria."
Mr Shahensha, of Hudson Road in Southsea, is accused of two counts of engaging in conduct in preparation for terrorism, between March 2013 and October 2014.
While Mr Jaman, of the same address, faces one count of the same charge.
The trial continues.