Bishop of Maidstone to 'give voice' to women bishop critics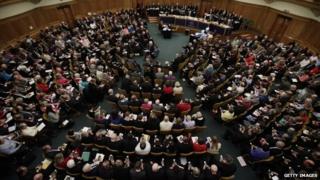 The newly-appointed Bishop of Maidstone has said he hopes to give a voice to those within the Church of England who oppose women bishops.
The Rev Prebendary Rod Thomas - who chairs the conservative evangelical group Reform - is to oversee congregations who do not accept the authority of women bishops.
He said he wanted to create a "mutual flourishing" within the Church.
The Church formally adopted legislation to allow women bishops last November.
The first woman to be made a bishop - the Rt Rev Libby Lane - was consecrated as the eighth Bishop of Stockport at York Minster in January.
A second woman bishop was appointed in March - Reverend Canon Alison White, Bishop of Hull.
However, divisions still remain between Anglicans who feel the change is consistent with their faith and traditionalists who disagree.
'Full part' in diocese
The Church has allowed concessions for those parishes that continue to object to the appointment of a women bishop.
It provides them with the right to ask for a male alternative and to take disputes to an independent arbitrator.
Speaking to BBC Radio 4's Sunday programme, Mr Thomas said that once consecrated he would look after individual parishes that had "difficulty" accepting the oversight of their female bishops.
Mr Thomas said many parishes would be able to find "solutions" within their own diocese by finding other male bishops to minister them.
But he added: "That won't be the case everywhere - it could be any number from 10 to several hundred."
"It is certainly not my intention to lead a church within a church. My intention is to enable conservative evangelical congregations to play a very full part in the life of their dioceses," he said.
Asked if he felt his appointment would stop the Church from splitting, he added: "I don't think anyone is talking in terms of a split, but we are talking in terms of mutual flourishing."
The BBC Radio 4's Sunday programme is broadcast from 06:00 BST on Sunday mornings.