Liberty names barrister Martha Spurrier as new director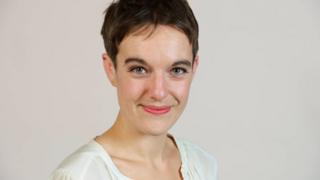 Rights group Liberty has named 30-year-old barrister Martha Spurrier as its new director, replacing Shami Chakrabarti who announced her departure in January.
Ms Spurrier specialises in defending access to justice and the rights of women, children and disabled people.
She said it was a "huge privilege" to join Liberty.
The organisation is currently campaigning against a proposed new intelligence-gathering law.
It says the Investigatory Powers Bill, which would expand the government's ability to gather private communications to combat national security threats, is not fit for purpose.
Liberty is also fighting to save the Human Rights Act - which the government has pledged to scrap - and curb what it says are discriminatory policing, immigration detention and asylum policies, which it describes as "lacking compassion".
Ms Chakrabarti - who spent 12 years as Liberty's director, repeatedly clashing with governments - said she was proud to be succeeded by "such a brilliant young barrister".
"With so many threats to refugee protection, online privacy and even our Human Rights Act, Liberty was never more needed," Ms Chakrabarti said.
Moving to Liberty from Doughty Street Chambers, Ms Spurrier has acted for the families of people who died in state care, represented victims of rape, domestic violence and trafficking, and challenged attempts to curb press freedom.
She has also campaigned in support of the Human Rights Act.
"In this fast-paced, complex, digital world, the battle to defend our human rights faces new frontiers," Ms Spurrier said.
"Liberty must continue to shine a light on abuses of power and protect equality, dignity and fairness in our society."
Ms Spurrier will take up the post at the end of May.
---
Eight decades of Liberty
Founded in 1934 as National Council for Civil Liberties (NCCL)
Campaigns to reform the mental health system, leading to abolition of 1913 Mental Health Act in 1959
First Race Relations Act passed in 1968 after lobbying by NCCL and others
Changes name to Liberty in 1989
Campaign to bring the European Convention on Human Rights into UK law succeeds with passing of the Human Rights Act in 1998
Defends GCHQ whistleblower Katharine Gun in 2004, accused of leaking details of US and UK phone-tapping at the UN Security Council
Home Office drops vans carrying advertising aimed at illegal immigrants in 2013 after Liberty's alternative van accuses it of stirring up social tensions