Channel Tunnel: Iranian men sentenced for 31-mile walk to UK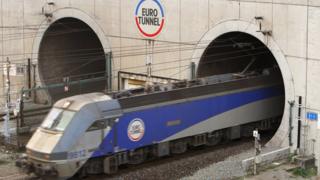 Two Iranian men have been sentenced after admitting walking the length of the Channel Tunnel from Calais to the UK.
Payam Moradi Mirahessari, 25, and Farein Vahdani, 20, completed the 31-mile (50.5km) journey in October 2015.
The pair were arrested in Folkestone, Kent, a day after 120 migrants broke into the train terminal in Calais.
Mirahessari was jailed for 14 months and Vahdani was sentenced to 14 months in a young offenders institution.
They were sentenced at Canterbury Crown Court after pleading guilty to obstructing an engine or carriage using the railway .
A spokesman for Eurotunnel said the firm would not be commenting on the sentencing.
The operator previously expressed the hope that a conviction would help deter other people from trying to cross through the tunnel illegally.