Will Asian tour provide headlines boost?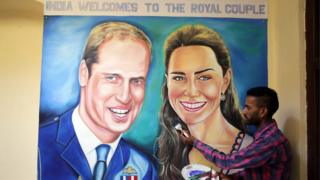 After some unflattering media coverage, the couple that represent the future of the British monarchy will be hoping that this tour will generate more positive headlines.
Prince William, an air ambulance pilot, has been accused of being "work shy" and "throne idle".
His supporters insist he's the heir-but-one to the throne and he's balancing his flying career with his responsibilities as a senior royal and his desire not to be an absent father.
This visit to India and Bhutan will help to establish if the claim of "work shy" sticks - as "Air Miles Andy" has to his uncle - or whether it is replaced by a more favourable appraisal of what the future king is trying to do.
When he gets to Bhutan, the recently-criticised representative of the Windsor dynasty will meet the king and queen of a fledgling democracy where the monarchy is revered.