Sam Hallam and Victor Nealon denied compensation by Court of Appeal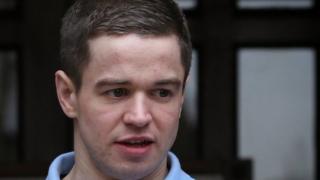 Two men who served long sentences before their convictions were overturned have lost the latest round of their legal fight for compensation.
Sam Hallam, from London, served more than seven years for murder, while Victor Nealon, from Worcestershire, served 17 years for attempted rape.
Both men were released after appeal judges ruled that fresh evidence made their convictions unsafe.
But the Court of Appeal dismissed their compensation cases.
The High Court rejected their challenge last year.
Mr Hallam, now 28, was jailed in 2005 for life with a minimum term of 12 years over the murder of Essayas Kassahun in 2004.
Asserted innocence
In May 2012, appeal judges decided the conviction was unsafe.
Mr Nealon, 54, who is originally from Dublin, was given a life sentence after his trial at Hereford Crown Court for the attempted rape of a woman in Redditch in 1996.
He served 17 years in jail, 10 more than the seven-year minimum term, after he persisted in asserting he was innocent.
His conviction was quashed in 2013 after a DNA test pointed to "an unknown male" - not Mr Nealon - as being the likely assailant.
Both of the men had applications for compensation for miscarriage of justice rejected by the Ministry of Justice.