Prince William wants focus on rhinoceros extinction risk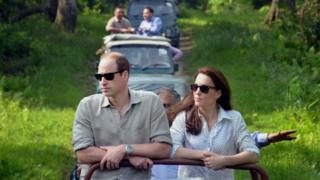 When Prince Philip was in India with the Queen in 1961 he shot a tiger.
He and his wife posed for a picture in front of the spoils of his hunting.
Prince William is a different generation royal with a different agenda - to save not shoot Asia's one-horned rhinoceros.
The two-tonne creatures - one of the oldest living mammals on the planet - are falling prey to poachers pursuing them for their horns.
The prince and his wife have witnessed the work being done at Kaziranga National Park to protect them.
They've also been told about the pressures that arise from people living close to wild animals.
William, the campaigning conservation prince, hopes he can exploit the intense interest that is focused on his young family and draw the world's attention to the threat of extinction hanging over India's rhinoceros unicornis.