Child sex abuse reporting portals launch in 12 UK territories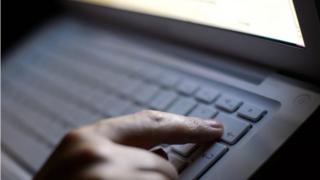 Dedicated web portals to allow people to report images and videos of child sexual abuse are being launched in 12 British overseas territories, the Internet Watch Foundation says.
The online reporting system is to help people who "stumble across" abuse to report it anonymously, the IWF said.
Reporting portals have already been set up in Mauritius and Uganda.
Any reports generated in the territories will be assessed and passed on to police.
Funded by the UK Foreign and Commonwealth Office, the 12 new portals are being rolled out in: Akrotiri and Dhekelia, Anguilla, Ascension Island, Bermuda, the British Virgin Islands, the Cayman Islands, Gibraltar, Montserrat, the Pitcairn Islands, Tristan da Cunha, Turks and Caicos and St Helena.
A team of IWF analysts will work directly with the internet industry and law enforcement to have the abusive imagery removed.
The charity says there has been a huge rise in the number of illegal child abuse images appearing on the internet over the last two years.
'Growing demands'
In 2015, the IWF positively identified 68,092 reports of child sexual abuse images or videos and had them removed from the internet.
Nearly 70% of the victims were under 11 years old and 1,788 victims were assessed as being aged two or under.
Eddie Yome, Commissioner of the Royal Gibraltar Police, said the rise of social media and new technology had brought new and "very difficult challenges".
He said: "I cannot stress enough the importance of a joined-up approach to this issue and as a result, we continue to focus on effective partnership, working to ensure we are better educated and prepared to successfully address the growing demands of the digital age."
Mary Durham, superintendant of the sexual offences and domestic violence unit at the Royal Turks and Caicos Islands Police said the reporting portal was a "great initiative".
She added: "Every way and means necessary to protect our children here in the Turks and Caicos Islands is of high importance."