HMS Defender seizes hashish with street value of £5.6m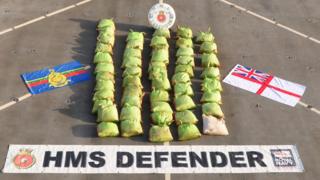 More than a tonne of hashish, with an estimated street value of £5.6m, has been seized by a UK warship in the Gulf, the Ministry of Defence has said.
HMS Defender's Royal Marine boarding team found 51 bales of drugs, each weighing 20kg (44lb), on a fishing boat off the coast of Oman on Tuesday.
The drugs were analysed by the Royal Navy Police before they were destroyed.
The Type 45 destroyer is working on counter-narcotics and counter-terrorist operations, the MoD said.
The seizure from the boat, a dhow, was made with the support of HMS Defender's Lynx helicopter and a United States P-8 Poseidon Maritime Patrol Reconnaissance Aircraft.
The Ministry of Defence said one tonne of "high grade hashish" was discovered in total.
'Another blow'
Commodore Guy Robinson, the commander of the Royal Navy-led Combined Task Force (CTF) 150, said: "While our mission is much broader than counter-narcotics, it's satisfying that we have dealt another blow to those that seek to use the sea for their illicit activity, so soon after the seizure of over a tonne of heroin by other CTF 150 ships.
"The real strength in Combined Maritime Forces is the international co-operation at sea and in the air, demonstrated fully in this seizure."
Commander Steve Higham, the commanding officer of HMS Defender said: "This has been a fantastic example of co-operation between maritime forces in disrupting the flow of illegal narcotics."
Defence Secretary Michael Fallon said: "This operation shows the Navy is working to tackle threats not just near our shores but also across the globe."