Two jurors given suspended sentences for contempt of court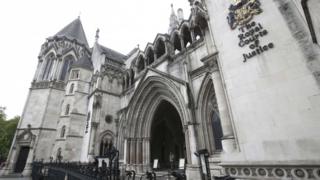 A juror who caused a criminal trial to collapse at a cost of £80,000 has been been given a nine-month suspended sentence for contempt of court.
James Smith, 28, from Liverpool, admitted doing internet research during a Liverpool Crown Court trial in 2014.
At the joint hearing at London's High Court, Deborah Dean admitted contempt of court in regards to a Sheffield Crown Court trial.
The 47-year-old from Sheffield was given a three-month suspended sentence.
The Lord Chief Justice Lord Thomas said the warning notices given to jurors in crown courts in England and Wales about how to avoid being in contempt of court must be rewritten "forthwith and without delay" in plain English.
This was to avoid future jurors being in doubt about the rules, he said at the joint hearing.
'Chin up sexy'
The Lord Chief Justice heard that because of Smith's actions, the 10-week trial had to be abandoned.
Smith, who was also ordered to pay £900 in court costs, admitted he had been "basically nosy" and apologised.
In the other case, Dean sent letters to two convicted sex offenders revealing details of jury deliberations that she had taken part in in October 2014.
She told the men she did not think they should have been found guilty and ended one letter with the words "chin up sexy".
Dean, who suffers up to 17 epileptic seizures a day, had claimed she did not realise she could not write to defendants in the case after they were convicted.
She apologised and said she was distressed and sent the letters out of misguided sympathy.
Both jurors' sentences were suspended for 12 months.
'Serious wrongdoing'
Following the hearing, Robert Buckland, the solicitor general for England and Wales who brought the proceedings, said: "These are both serious examples of juror misconduct where the repeated directions of the judge were blatantly ignored."
Mr Buckland said in Smith's case the "wastage of costs was completely avoidable".
"Contempt of court of this nature involves serious wrongdoing," he said.
"Any action which interferes with the administration of justice is a serious breach and I hope today's judgment sends a lesson to other jurors about their responsibilities."