'I'm devastated we voted Leave but don't blame Corbyn'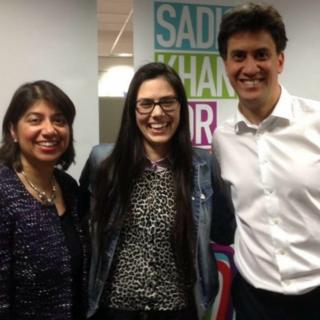 In the wake of the EU referendum result, a fresh crisis is threatening to destabilise one of the country's main political parties.
While news that the UK will leave the European Union is still being digested, many members of Jeremy Corbyn's Labour shadow cabinet have quit.
What do Labour Party members think about Jeremy Corbyn's position?
---
'A squabbly coup'
Sam Green, in London, says she is putting her faith in Mr Corbyn despite the pressure he is under to resign.
"I voted for Jeremy Corbyn but I have never been 100% sure of him, though I am a very big supporter of [shadow chancellor] John McDonnell," she says.
"I am devastated that we voted to leave, saddened to the core, but I don't blame Corbyn for that.
Follow the latest developments on our live page
"This is like a squabbly Westminster-style political coup.
"I actually stand behind Corbyn even more after the referendum.
"He seems like the only beacon of light and hope for us now.
"If he goes and if the Conservatives continue to drag this country into the abyss I won't just leave the party, I think I'll leave the country too."
---
I joined for Corbyn now I'm leaving
Jess Wood from Seaford, Sussex says she feels let down by Mr Corbyn.
"Jeremy Corbyn was both disingenuous and politically immature in the way he handled the Brexit vote.
"He is nothing like robust or diligent enough to lead a party in the 21st century.
"If a challenge to the Tories is to be mounted, it must come from a new, more sophisticated leader.
"I joined the Labour Party because of him, now I am leaving it because of him."
---
'If Corbyn goes, I go'
Labour member Robbie Young, 20, from Edinburgh, fully supports Mr Corbyn.
"I voted for him, and he will always have my full support," he says.
"If Corbyn goes, I go.
"I believe that is the same for half of those who have just joined to vote for him.
"They didn't join to vote for Liz Kendall.
"The shadow cabinet is a disgrace.
I've met Jeremy on a number of occasions, and he is a great leader.
"The timing of all this is not significant.
"This coup was planned since he was elected."
---
Katherine Armstrong voted for Corbyn last time round but says she now thinks he is ineffective.
"I voted for Corbyn in the hope that a hard-left Labour Party might gain popular support.
"The opposite has happened, and I am now desperate to see a Labour leader elected with broad consensus-building potential.
"Corbyn looks less honourable and more out of touch with every passing hour. The country needs a strong opposition and however much the unions back Corbyn, he is completely ineffective and unelectable.
"I write this with a heavy heart, as I admire his principles, believe him to be a very likeable and decent man, but the country has to come before any one individual and his ambition."
---
'Political atmosphere is changing'
Harris Ofasi, of London, says the party is heading towards a new direction we should embrace and support.
"These string of resignations from the shadow cabinet is a coup and should not be allowed," he says.
"I voted for Jeremy Corbyn and will vote for him again.
"He has only had nine months of leadership.
"The political atmosphere is changing in Labour.
"Why is it so hard for these MPs to realise there can be a new way of doing politics?"
---
'Cataclysmic failure'
But Mitch Theaker, 25, Pontypridd, takes a contrasting view.
"Jeremy Corbyn forged an almost unprecedented activist base for our party, which he deliberately did not galvanise in our fight to stay in the European Union.
"He must accept liability for his failings to defend our relationship with Europe.
"He must step aside so that we can unite around a leader that has the loyalty and foresight to act as he did not.
"His duty was to inspire Labour voters in this referendum with his wholehearted support for the EU.
"He failed to do that, and I believe it was because of active refusal not just passive.
"We lost Wales, the most Labour part of our nation, and that was a cataclysmic failure not just for the overall result but also for our ability as a nation to have a strong voice like Scotland does now."
---
'Corbyn understands the young'
Rawan Dashti, of Liverpool, says Mr Corbyn is getting the support he needs.
"I am a 24-year-old who has voted for Corbyn in the leadership election, and I would vote for him again," she says.
"Labour MPs should be reminded that it is the people who have chosen Corbyn as a leader.
"They should stop being childish over not having a leader that they want.
"It's worse that they have no candidate even to replace him.
"Corbyn won for a reason.
"He speaks to a large proportion of people, especially the younger generation, who are now willing to vote for a leader that finally represents them."