Nice attack: UK must redouble efforts on terror - May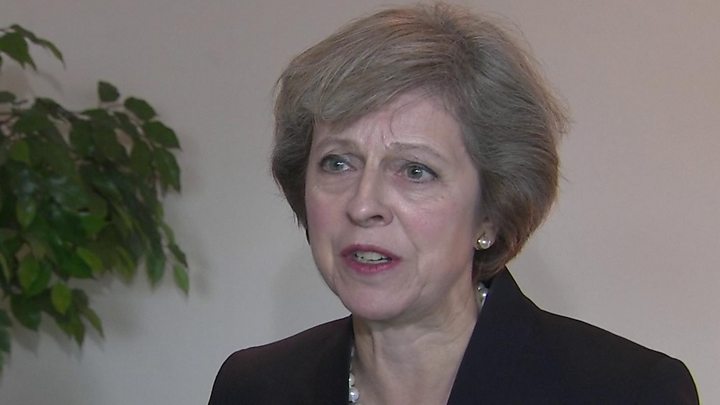 Theresa May says the UK must redouble its efforts to defeat terrorism, as she condemned the "brutal murderers" behind "horrifying" attacks like that in Nice.
The prime minister said Britain stood "shoulder to shoulder" with France after a lorry drove into a crowd killing 84 and injuring 202.
Downing Street says a "small number" of Britons were injured in Nice.
The Queen and Prince Philip have sent their "most sincere condolences" to the families of those who died.
They also said they were "deeply shocked and saddened" by the attack.
The London Eye has been lit up in the French colours of blue, white and red, as has the Palace of Westminster.
Meanwhile, UK police are asking for any Britons in France with footage of the incident to come forward.
And police forces across the UK have been asked to review security arrangements at major events over the next week.
A number of Britons in Nice have described "horrendous" scenes as the lorry ploughed into packed crowds gathered for Bastille Day celebrations. The driver was later shot dead.
The Foreign Office advised any Britons in the area to contact friends and family to let them know they are safe.
The British embassy has opened a crisis centre with a 24 hour number: 0033 1 4451 3100. The French authorities have also set up a hotline: 0033 1 4317 5646.
The Met Police has set up a website where images and video of the incident can be uploaded by the public and members of the UK's media.
It also says anyone with information can call the Anti-Terrorist Hotline on 0800 789 321.
A Scottish couple on holiday in Nice, Carole Annie and Ross Cowan, were feared missing by their family who posted urgent appeals online, but have since been found safe.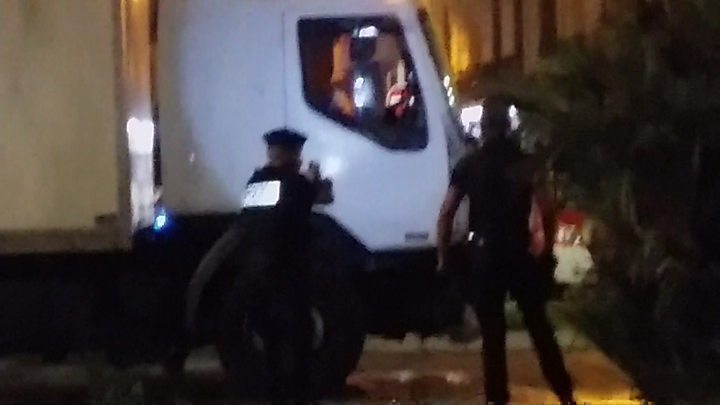 Mrs May said she would speak to President Hollande "and make clear that the United Kingdom stands shoulder to shoulder with France today as we have done so often in the past".
"If, as we fear, this was a terrorist attack then we must redouble our efforts to defeat these brutal murderers who want to destroy our way of life," she said.
Mrs May said the government was "already making more funding available" for security services and policing, and senior officials would review procedures.
Foreign Secretary Boris Johnson, who had celebrated Bastille Day with dinner at the French embassy in London, said the UK stood "shoulder to shoulder with France following this appalling and cowardly attack".
He also said the UK was united with its French and European partners in dealing with "these threats to our countries and our way of life". He also said British Embassy staff are on the ground in Nice and in contact with French authorities.
Labour leader Jeremy Corbyn has written to the French ambassador to express his condolences.
"I have no doubt that the attack during celebrations for Bastille Day, which commemorates the French Revolution and honours the principles of liberte, egalite, fraternite, will only redouble the commitment of the French people to these universal ideals," he wrote.
'Security review'
The first night of the BBC Proms began with a tribute to the people of Nice, with the BBC Symphony Orchestra playing La Marseillaise, France's national anthem, in the Royal Albert Hall.
A meeting has also been called of senior officials in the government's emergency Cobra committee to see what Britain can do to help, Mrs May said.
The National Police Chiefs' Council is asking all UK forces to review major events over the next week to ensure "appropriate" security is in place.
London Mayor Sadiq Khan said he would be reviewing the capital's safety measures in light of the attack.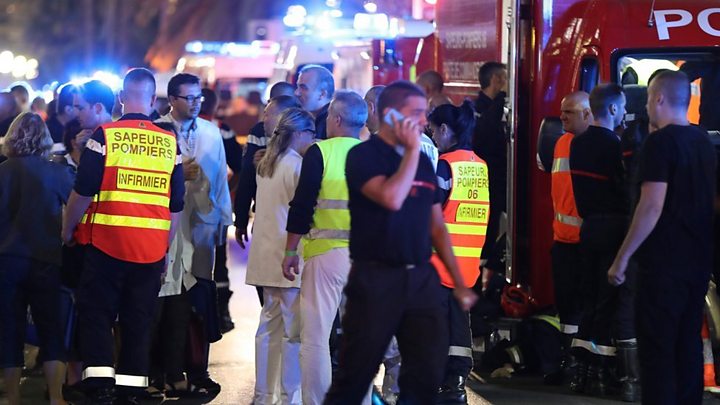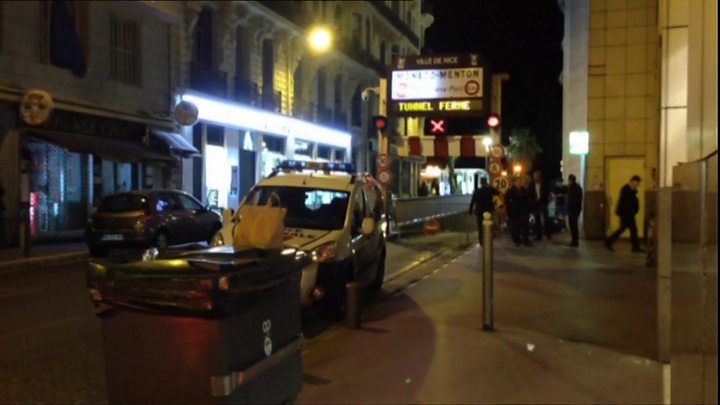 The attack in Nice's Promenade des Anglais happened at about 23:00 local time during celebrations to mark Bastille Day - France's national day.
French prosecutors said the lorry drove 2km (1.2 miles) through a large crowd, killing at least 84 and injuring about 50 people, 18 of them critically. Christian Estrosi, mayor of Nice, said about 10 children had been killed.
French media reports say the attacker has been identified as Mohamed Lahouaiej Bouhlel who lived locally.
BBC reporter Gavin Lee said security sources said he had links to Sousse, the Tunisian resort where 38 tourists, including 30 Britons, were murdered in a terrorist attack last year.
Britons in Nice described moment the attacker struck. Paddy Mullan, from Northern Ireland, was standing on the promenade when the truck "came out nowhere" and started "ploughing" into the crowd.
He told BBC Radio Foyle: "This lorry just mounted the kerb, across the street from us and the next thing, all you could hear was banging and shouting and screaming."
'People running, screaming'
A former British serviceman, Will Shore, was in a nearby bar, and ran towards the scene to find out what was going on.
"It was quite chaotic really, there was a lot of people screaming, running around, people were kind of being pushed over I think from people just being so frightened about what was going on, especially after hearing the gunshots."
Joel Fenster, a British tourist in Nice, told the BBC he hid behind a car alongside a mother trying to reassure her young daughter.
"And then later crouching in the restaurant with a whole load of young children as they're trying to keep them calm and of course they can't and they're crying - and watching that really was I think the most heartbreaking thing," he said.
French ambassador to the UK Sylvie Bermann said it was an attack on liberty, equality and fraternity.
People are leaving flowers at London's French embassy in Knightsbridge, where flags have also been lowered as a mark of respect to the victims. A French flag is also being flown at half mast above No 10.
---
Are you in Nice? Did you see what took place on Promenade des Anglais? If it is safe to do so, please get in touch. Email haveyoursay@bbc.co.uk.
Please include a contact number if you are willing to speak to a BBC journalist. You can also contact us in the following ways:
WhatsApp: +44 7525 900971
Tweet: @BBC_HaveYourSay
Text an SMS or MMS to +44 7624 800 100