Reality Check: How much does it cost to become party leader?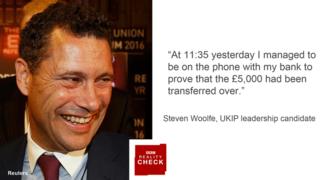 Steven Woolfe MEP was on BBC Radio 4's Today programme on Monday discussing, among other things, the technical problems he had faced in trying to enter the UKIP leadership election.
"At 11:35 yesterday, I managed to be on the phone with my bank to prove that the £5,000 had been transferred over," he said.
It turns out that the £5,000 is a deposit, which will be returned to any candidate who receives at least 5% of the votes in the leadership election.
The other requirements for candidates is that they must have been:
party members for at least two years
nominated by 50 party members from at least 10 different UKIP branches
Most major parties have had a leadership election in the past few months, and this got the Reality Check team wondering how much money you have to be able to stump up to enter the race to be leader of other parties.
It turns out that none of them asks for a deposit, but there are other requirements.
---
Conservative Party
To stand for the party leadership, candidates must be nominated by two fellow MPs.
If only one candidate stands, they get the job.
If two candidates stand, a postal ballot of Conservative Party members is held, with the candidate obtaining the most votes declared the winner.
In the event that more than two candidates stand, Conservative MPs hold as many ballots as necessary to reduce the number to two, with the candidate with the fewest votes in each round being eliminated.
The final two candidates are then put to the membership, unless one of them withdraws, as happened this year.
---
Labour Party
A candidate needs to be nominated by 15% of the Parliamentary Labour Party and its members of the European Parliament if the previous leader has resigned, or 20% if challenging an incumbent.
Labour Party members get to vote on as many candidates as have reached that threshold.
---
SNP
A candidate for leader or deputy leader must have the nominations of at least 100 members, who must be drawn from at least 20 branches.
---
Liberal Democrats
Any current Liberal Democrat MP can run for leadership providing they are proposed by at least 10% of other members of the Parliamentary Party in the House of Commons and supported by at least 200 members spread over 20 local parties.
As the Lib Dems currently only have eight MPs, that means that an MP could actually nominate themselves and not need the support of any other MPs.
---
---