Post Office staff back strike action over job cuts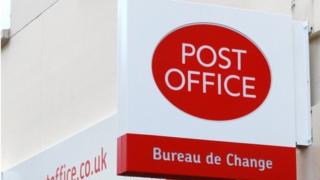 Post Office staff have voted for strike action over planned cuts to jobs, services and pensions, the Communication Workers Union has said.
In a ballot of 3,500 members, just over half took part and 83% voted to strike.
Union officials said the Post Office was "on the path to extinction" and the government must now intervene.
Kevin Gilliland, Post Office sales director said: "We must continue with our plans to modernise our network and make it better for customers."
'Crisis point'
In April, the Post Office, which is publicly funded, announced plans to move up to 61 more branches into WH Smith stores over the next year.
The move is part of a 10-year agreement to relocate more branches into the retailer's stores in a drive to cut costs and save money.
BBC industry correspondent John Moylan said public funding has reduced year on year, which has required the Post Office to find cheaper ways of providing services.
CWU general secretary Dave Ward said staff were now facing 2,000 job losses this year and the closure of their pension scheme.
"The Post Office is at crisis point and the government has to step in," he said.
"The government separated the Post Office from Royal Mail and declared it would be safe in public hands. In reality we have seen public funding being withdrawn, falling from £210m in 2013 to £80m this year, and a complete failure from the board to grow its revenues to make up for this.
"Staff and customers are the ones who are paying the cost."
The Post Office said it was "happy to talk and continue to invite the CWU to join us at the negotiating table".
Mr Gilliland said: "We are taking the right actions to ensure that Post Office branches thrive for future generations.
"We halved our losses in 2015-16 and are making steady progress in ensuring our business is simpler to run, reducing costs to the taxpayer whilst at the same time modernising our network of over 11,600 branches, which is now at its most stable for decades.
"All of our proposals are taken forward with the utmost care for the people they affect and we're proud of our track record in supporting people through difficult changes. The CWU's threat of industrial action can only unsettle customers and employees."
The Post Office said should action be called, it would minimise disruption to customers in its 300 Crown branches, where CWU members work, adding that 97% of its branches would not be involved in any strike action.
A Department for Business spokesman said the strike was "an operational matter for Post Office Ltd".
He added: "As its annual accounts show, there has been a continuing improvement in Post Office's financial performance, and a reduced reliance on taxpayer support.
"Our investment has led to the most stable network for decades, 200,000 extra opening hours a week and more than 3,500 branches open on Sundays."