I Am Team GB: Sports clubs open doors for free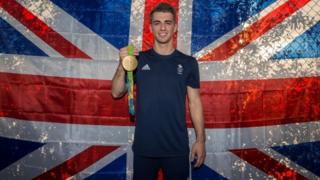 Thousands of sports clubs across the UK opened their doors for free on Saturday following Team GB's success at the 2016 Rio Olympic Games.
The event aimed to encourage more people to take part in sport.
ITV switched off all seven of its TV channels for an hour from 09:30 BST to encourage people to get off their sofas and do some exercise.
Olympians who took part in I Am Team GB included rower Helen Glover, and gymnasts Amy Tinkler and Max Whitlock.
They attended events in towns and cities across the country including London, Cardiff and Glasgow.
The sports on offer ranged from bowls and hockey to gymnastics and cricket. Some councils are also offered swimming sessions for free.
Medal haul
Before the event, Whitlock, who won two gold medals and one bronze at Rio 2016, said: "I Am Team GB is encouraging everyone to get out and get active while also celebrating the support that the public gives Team GB by playing the National Lottery.
"The first Saturday after the Olympic Games will see hundreds of clubs and sporting venues across the UK open their doors, encouraging people to participate and all for free."
Father-of-three Mike Simon took his children to the National Football Museum and Whitworth Park in Manchester, where they tried fencing, volleyball and football.
"The whole event has been thoroughly enjoyable and has inspired the children to further pursue the sports, we have already enquired about local volleyball, handball and fencing clubs," he said.
It came as several Olympians were welcomed back to the clubs where they train.
Whitlock, coach Scott Hann and team-mate Brinn Bevan were met by crowds at South Essex Gymnastics Club in Basildon.
Whitlock said he was proud to be supported by an "incredible" club and hoped to inspire more gymnasts.
Tinkler, 16, who won bronze, honed her skills at South Durham Gymnastics Club.
She said: "To see everyone back here is overwhelming. It's incredible, it's starting to sink in but it still seems crazy that it actually has happened."
'Brave idea'
Meanwhile, the ITV switch-off got a mixed reaction on social media.
Doctor and children's TV presenter Ranj Singh tweeted: "Well done @ITV for switching off its channels for 1 hour to encourage people to go out & get active! #IamTeamGB."
Several Twitter users praised ITV, with one calling the switch-off a "great and brave idea", but others mocked the move.
One called it the "best thing I've ever seen on ITV", while several suggested the switch-off should have been delayed until Saturday evening to coincide with the new series of The X Factor.
Figures from Sports England show that the number of people playing sport fell after the London Olympics in 2012.
I Am Team GB is being staged by the National Lottery in conjunction with UK Sport and the British Olympic Association.
British athletes have won 633 Olympic and Paralympic medals since lottery funding started in 1997.
Team GB won 67 medals in Rio - 27 gold, 23 silver and 17 bronze in Rio - the best for 108 years.