West Midlands anti-terror police given more time to question suspects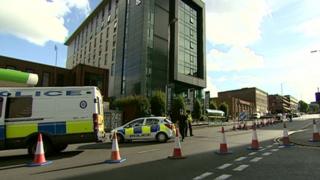 Police have been given more time to question five men arrested on suspicion of terror-related offences.
The men were arrested in raids in Birmingham and Stoke-on-Trent on 26 August.
Police said the arrests led to a series of property searches, with an army bomb disposal team sent to Birmingham's Lee Bank area as a "precautionary measure".
Magistrates in Westminster granted officers a seven-day extension for further questioning.
Officers had already been given seven more days to question the suspects on 27 August.
An 18-year-old was arrested along with a 24-year-old and 28-year-old in Birmingham, while two men aged 32 and 37 were arrested in the raids in Stoke-on-Trent.