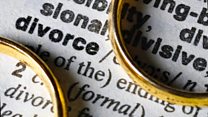 Brexit divorce: 'conscious uncoupling' or bitter breakup?
20 March 2017 Last updated at 20:10 GMT
Theresa May has signed the letter to trigger Article 50, in which the UK's decision to leave the European Union formally begins.
BBC News' Ben Wright explains what may happen after Article 50 is triggered.