Hurricane Irma: UK Royal Marines take aid to victims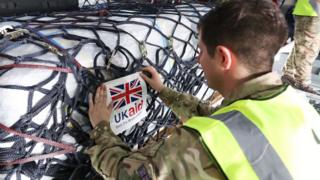 Five hundred British troops have been sent to the Caribbean to distribute aid and secure UK territories hit by Hurricane Irma.
The relief operation was "well under way", the Defence Secretary Sir Michael Fallon said.
Five people died in the British Virgin Islands as a result of the hurricane.
Prime Minister Theresa May said the government was working with US authorities to ensure Britons were protected as Irma approaches Florida.
But the Foreign Office has advised British citizens to make their own contingency plans because its ability to provide assistance to those affected may be "extremely limited".
Irma is expected to strengthen once it moves away from Cuba and is due to reach Florida on Sunday.
Irma strengthens as it closes on Florida
Briton rescued from Irma 'war zone'
Britain's initial response to the hurricane was said to have been "found wanting" by the heads of two parliamentary committees on Friday.
Sir Michael said the government was "stepping up our effort" by sending up to three extra aid planes a day to the Caribbean.
Hundreds of British troops will help secure UK overseas territories after "unconfirmed reports of looting", he added.
Policemen have been sent to Anguilla, Turks and Caicos, and the British Virgin Islands (BVI) to help maintain order.
Sir Michael said that while chairing a meeting of Cobra, the UK's emergency response committee, the governor of the BVI had confirmed it had reopened an airfield, allowing planes to land.
The humanitarian mission, known as Operation Ruman, is part of a £32m package to distribute aid, as well as provide troops, engineers and disaster relief specialists.
Travelling on Royal Air Force C-17, Voyager and A400M aircraft, the military is transporting emergency shelter kits, rations and clean water to the region.
The UK military ship RFA Mounts Bay continues to provide support to the BVI.
HMS Ocean has also been diverted from the Mediterranean and is now taking aid to the Caribbean.
Aid has also been supplied from the Department for International Development's disaster response centre at Kemble Airfield in Gloucestershire.
This includes 10,000 aid buckets and 5,000 solar lanterns.
Irma has caused huge damage in the British overseas territories of Anguilla, the BVI and the Turks and Caicos islands further north.
British overseas territories are self-governing but rely on the UK for protection from natural disasters.
Briton Emily Killhoury, who lives on Tortola in the BVI with her husband Michael and their two children, aged nine and 10, told the BBC her family had bunkered down in a cupboard when the storm hit.
"Our downstairs doors suddenly blew out, which was terrifying. We just stayed hiding," she said.
"We eventually emerged at about 7pm to see total devastation. Everybody is shocked, but trying to be practical."
Meanwhile in non-British areas of the Caribbean, stranded UK citizens have criticised the government, some claiming "there's been no relief".
Denise Harford had been travelling to a funeral in Grenada, but first went to the Dutch territory of Sint Maartens.
She said: "There's a curfew that's going to be in place - there's no food, there's no water.
"There's no help for us, because we're British.
"We've had nothing from England… there's been no relief."
She said she'd been advised to check the Foreign and Commonwealth Office website, but added: "How can you check the website when there's no internet?"
Sir Michael said consular assistance was being offered to people stranded in non-British Caribbean territories.
What has happened in British territories?
Anguilla: Hit by the full blast of the hurricane on Wednesday. At least one death reported.
British Virgin Islands: At least five people have died. Expected to require extensive humanitarian assistance.
Montserrat: "Swiped" by Irma but suffered less serious damage.
Turks and Caicos: Battered by the hurricane on Thursday night, with roofs ripped off, streets flooded, utility poles snapped and a widespread black-out on the main island of Grand Turk.
What is the advice for travellers?
Thousands of British tourists are believed to be holidaying in the Caribbean, the travel association Abta said.
Britons in the region have been urged to follow evacuation orders.
Holiday firms are monitoring the situation and some have cancelled flights or offered to amend bookings for those due to travel to affected areas in the coming days.
The cruise company Carnival has cancelled four cruises bound for the Caribbean that were due to depart over the next few days - and warned that others may be cut short.
The Foreign Office urges people planning to go to the areas to follow the advice from the local authorities, including any evacuation orders, and check its official travel guidance before travelling.
It has set up a hotline for people affected by the disaster and for people whose loved ones may be affected on 020 7008 0000.