Neo-Nazi case: Soldiers in court on National Action charges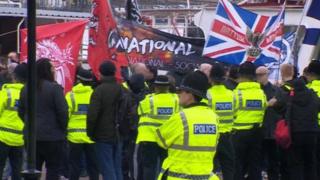 Three men - including two British soldiers - who are accused of being members of a banned neo-Nazi group will stand trial in March.
Lance Corporal Mikko Vehvilainen, 32, Private Mark Barrett, 24, and Alexander Deakin, 22, are accused of membership of National Action.
The far-right organisation was added to a list of proscribed groups by the home secretary last year.
The men have appeared at the Old Bailey via video link.
L/Cpl Vehvilainen is in custody at HMP Belmarsh, a prison in south-east London. The other two are being held at HMP Winchester in Hampshire.
At the preliminary hearing, the men spoke only to confirm their names and to indicate they understood proceedings.
The trial is set to start on 5 March at Birmingham Crown Court, and last about four weeks.
Pte Barrett, based in Cyprus, faces a single charge of membership of National Action, contrary to the Terrorism Act 2000,
Mr Deakin, from Great Barr, Birmingham, faces further charges of distributing a terrorist publication and possession of documents likely to be useful to a person preparing to commit an act of terrorism, including a white supremacists' handbook.
L/Cpl Vehvilainen, from Sennybridge Camp in Powys, is also accused of:
Possession of pepper spray
Possession of a document likely to be useful to a person committing or preparing an act of terrorism
Posting material online that was threatening, abusive or insulting, thereby stirring up racial hatred
According to the indictment, L/Cpl Vehvilainen had a copy of a book by Norwegian mass murderer Anders Breivik.
The defendants were remanded in custody.