Brexit an 'awful complicated mess' says Merkel adviser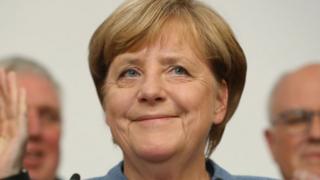 Chancellor Angela Merkel's chief of staff has described Brexit negotiations as an "awful complicated mess".
Speaking in an interview with BBC Newsnight Peter Altmaier said "concrete solutions" are needed.
He described the idea of a transitional period as "an interesting one" but said it all depends on the details.
Mr Altmaier was speaking as Angela Merkel was re-elected for a fourth term - but her conservative CDU/CSU bloc had its worst result in almost 70 years.
On Brexit, Mr Altmaier said: "We are very much interested in reading concrete papers and proposals because as you have perhaps realised, these Brexit negotiations are an awful, complicated mess."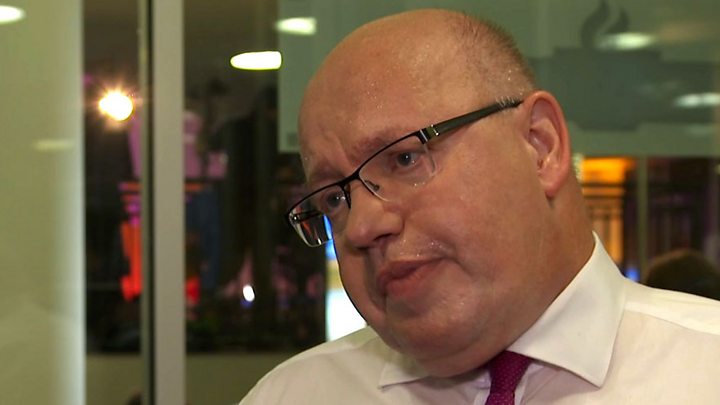 "What we need are concrete solutions in the interests of our citizens, British citizens, European citizens as well," he added. "We have to discuss money and we have to discuss the future relationship."
He was speaking as the results came in in Germany's elections. The right-wing, nationalist Alternative for Germany (AfD) party is expected to take 94 seats in the 709-seat federal parliament, making it the third-largest party.
It is the first time since World War II that a far-right party has entered the Bundestag, or German national parliament.
Alternative for Germany was founded in 2013 as an anti-euro party but later turned its focus to immigration and Islam.
It called for a ban on minarets and declared Islam incompatible with German culture.
Protests against the party have been held in several cities following the election result.
The chancellor's chief of staff Peter Altmaier told BBC Newsnight's Mark Urban that they were "disappointed" to have lost more of a share of the vote than they had expected, but "pleased and satisfied" to have a clear mandate for a new government.
He said they will try to form a new government "as rapidly as possible" and he hopes this will be completed within the next two months.
He said there was no question of a CDU-AfD coalition: "We have to be very conscious, we have to make clear that our principles, our values are not negotiable. And we will not from any kind of parliament or coalition with this party."
Mr Altmaier said the AfD's success in the polls was "regrettable" but that it would not fundamentally change the atmosphere of politics in Germany.
He pointed to countries like the Netherlands, Belgium and Italy where he said support for the far-right is much stronger.
The UK's Brexit Secretary David Davis is leading a team of negotiators into their fourth round of talks with EU officials in Brussels on Monday.
It is the first opportunity for the European delegation to respond to Theresa May's speech in Florence where she outlined a plan for a two-year transition period before the UK leaves the EU.
Mrs May aimed to restore momentum to a process that was stalling.
Key figures such as EU chief negotiator Michel Barnier described her tone as constructive.
But EU negotiators say they want more detail on, for example, what payments the UK is prepared to make as it leaves.