Artist sorry for using comedians' faces in underpass art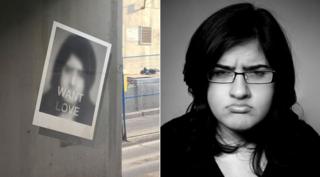 A Canadian artist has apologised for using photos of British comedians without their knowledge in an art installation in a Calgary underpass.
Derek Besant said he has asked city officials to remove his work, entitled Snapshots, featuring 20 pictures lifted from an Edinburgh Festival brochure.
London comedian Bisha K. Ali said it was disrespectful and wrong to use her face without first seeking permission.
Mr Besant said he was "extremely sorry" and had never meant to hurt anyone.
When the artwork, listed for $20,000 (£11,600), was first unveiled in 2015, an article in Calgary-based magazine the Avenue reported that Mr Besant had chosen the 20 people at random from pedestrians he met in the underpass.
It said he took a camera, recorder and notepad, and spoke to passers-by over a few days.
On the artwork, the faces had short slogans superimposed on them - which Mr Besant had explained were taken from his interviews with the Calgary pedestrians.
It only came to light that the photos were not Mr Besant's when an old friend of Ali's spotted her blurred face with "I want love" written across it.
Ali then identified other comics from images of the underpass, including Danish comic Sofie Hagen, broadcaster Hardeep Singh Kohli and comedian Chris Betts.
They had been blurred, enlarged and given the appearance of Polaroid snaps.
"My reaction was mostly one of bemusement - why on Earth did the artist use a photograph of me?" she told the BBC.
"Beyond that, it's disrespectful and wrong for the artist to have pinched [a] photographer's work and used performers' likenesses without their consent."
She said the original image of her was taken in about 2012 by fellow comedian Jayde Adams.
Mr Besant said he had thought the photographed faces from "some torn-out pages from a flyer" were "already out in the public domain".
"Therefore, I thought they could be collaged as backgrounds to be further interrupted with text elements," he added.
The concept behind the artwork was to "open up a conversation centred around who are we - in cities", he said.
"I intended my project to incorporate a theme of 'representations of strangers that could be from anywhere, in any city'."
"In no way did I ever mean to hurt anyone involved, and I am extremely sorry that this is the result of my misunderstanding," he said.
Calgary City confirmed that Mr Besant had asked for the installation to be removed.