Grenfell Tower fire: Inquiry 'needs a diverse panel'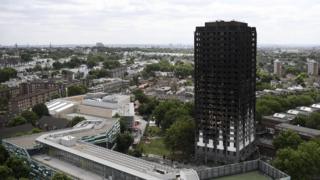 The Grenfell Tower fire inquiry could become a whitewash unless there is a diverse panel to oversee proceedings, survivors and bereaved families say.
They say chairman Sir Martin Moore-Bick should sit with people from a range of backgrounds who understand the issues facing those affected by the blaze, in which 71 people died on 14 June.
They have started a petition calling for Theresa May to intervene.
The government said the process of considering the panel was ongoing.
'A fair crack at justice'
Sir Martin's appointment as the inquiry chairman has already been criticised by residents, who say he is an establishment figure.
Victims groups were further angered when the retired Court of Appeal judge said he would not appoint a member of the Grenfell community to the panel, arguing it would "risk undermining impartiality".
Adel Chaoui, who lost four relatives in the fire, said their complaint was "not about ethnicity".
"It's nothing to do with whether you're black, white, Arab, whatever - it is to do with experiences," he said.
"(Sir Martin) is very, very good at what he does, but he does not necessarily understand us.
"At the same time, we are up against these industry bodies that are spending millions of pounds on legal resources that we are never going to get anywhere near."
Mr Chaoui said he and others would likely not attend the inquiry unless the format was changed.
He added: "I'm really hoping the Prime Minister sees all we're asking for is a fair crack at justice."
'Not listened to'
The petition organisers say about 50 victims are backing the call for Downing Street to add people to the panel who have the "breadth and experience" of the "big social issues" that led to the tragedy.
Karim Mussilhy, whose uncle Hesham Rahman died in the fire, said: "We don't want to whitewash this inquiry, we don't want to feel like we're not being listened to, or belittled, or ignored just like the residents were before and after the [fire at the] tower."
'Huge legal budgets'
Sir Martin has appointed three assessors to the inquiry, which will open its first procedural hearing on 11 December.
One of the assessors is from a black and ethnic minority background.
But Sandra Ruiz, who lost her niece in the tower blaze, has said the assessors have "no decision-making capacity".
"I think it's just a nod to what we've been asking but I don't think there's enough of a response there," she added.
A government spokesman said: "The prime minister has given a commitment to consider the inquiry panel after the chair determined what further expertise he required, and this process is ongoing.
"We would like to assure all those affected by the tragedy that legal representatives of core participants will receive all relevant evidence, be able to offer opening and closing statements at hearings, and will be able to suggest lines of questioning for witnesses."