Aldi alcohol advert banned over 'appeal' to children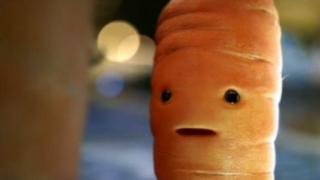 An Aldi Christmas advert for alcohol, featuring the computer-animated Kevin the Carrot, has been banned for inappropriately appealing to children.
The supermarket's television advert saw the character reference the horror film The Sixth Sense and ended with an alcohol-related voice-over rhyme.
The Advertising Standards Authority (ASA) ruled the advert was likely to have "strong appeal" to under-18s.
Aldi said the advert aimed to appeal to "adults rather than children".
A spokeswoman for the supermarket's agency said the advert was also subject to broadcast restrictions so that it did not "appear adjacent" to any programmes aimed at under-18s.
"Nevertheless we will abide by the ASA's ruling on this matter," she said.
'Irresponsible'
The advertising watchdog acted after a viewer complained that the advert was irresponsible in targeting children.
Appearing on TV as one of the supermarket's 12-part festive campaign, the advert begins with Kevin saying "I see dead parsnips", in reference to a line of dialogue from the 1999 film The Sixth Sense, rated 15 at the time of release.
The advert ends with a voice-over rhyme: "There were a few spirits that cold Christmas night. Award winning bottles for raising a toast and one frightened carrot had just seen a ghost."
The agency Clearcast, which cleared the advertisement for broadcast on behalf of Aldi, said the ad was given the appropriate scheduling restriction for featuring alcohol, ensuring it did not screen during or around children's programmes.
However, the ASA ruled that the tone of the dialogue and rhyme was reminiscent of a children's story, while the end of the ad showing Kevin being frightened by another character dressed up as a ghost, would be particularly funny for younger children.
"Because of that, we considered the ad was likely to appeal strongly to people under 18 and given that it was promoting alcohol, we concluded was irresponsible," the watchdog concluded.