National Action: Accused soldier 'had Breivik manual'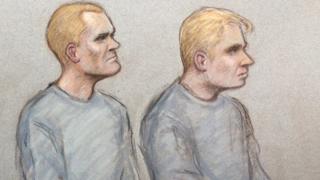 An Army trainer accused of being a member of a banned neo-Nazi group kept a terrorism manual written by far-right extremist Anders Breivik, a court has heard.
L/Cpl Mikko Vehvilainen and two other men all deny being members of National Action.
Birmingham Crown Court heard the "virulently racist" group was trying "to stir up a violent race war".
Breivik killed 77 people in two attacks in Norway in 2011.
Duncan Atkinson QC, prosecuting, said L/Cpl Vehvilainen, 33, fellow serving soldier Pte Mark Barrett, 24, and a 23-year-old man who cannot be identified for legal reasons were "active members" of National Action.
The barrister told jurors: "These defendants are not being prosecuted for their racist of neo-Nazi beliefs, however repulsive they may be.
"But for their participation in an organisation that sought actively through fear, intimidation and the threat of violence rather than through free speech and democracy to shape society in accordance with those beliefs."
He said National Action "engaged in a campaign of virulently racist, anti-Semitic, and homophobic propaganda... against ethnic minorities and others it perceived as 'race traitors'".
Jurors were told the group was banned in the UK in December 2016 following a number of actions including their "support for the murder of the MP for Batley, Jo Cox".
The men all came to the attention of the authorities following an investigation into the organisation.
'Inciting hatred'
L/Cpl Vehvilainen and Pte Barrett were "both serving members of the British army" in the Royal Anglian Regiment, the court heard.
Pte Barrett, based at Kendrew Army Barracks, Rutland, but arrested at Dhekalia Barracks, Cyprus, had an "active affiliation" having been recruited by his older colleague, L/Cpl Vehvilainen.
On a phone at L/Cpl Vehvilainen's home at Sennybridge Camp in Powys, Wales, the court was told police found Breivik's manual, entitled "A European Declaration of Independence".
They also found the officer had visited websites where he made comments "inciting hatred" against black people.
L/Cpl Vehvilainen denies two charges of stirring up racial hatred, and one count of possession of a terrorism manual.
The third defendant is facing three counts of possession of a terrorism manual - including a copy of Breivik's pamphlet - and one count of distributing material likely to be useful to terrorists featuring information on explosives and how to kill people.
The trial continues.