Liverpool's James Milner joins Twitter with Boring parody dig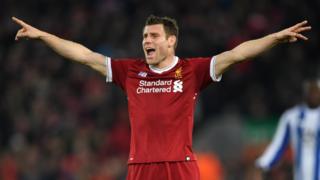 James Milner has been welcomed to Twitter by a popular parody account which labels the footballer as dull.
The Liverpool and England midfielder's first tweet after joining the social network on Thursday pictured him ironing a t-shirt.
The Boring James Milner account, which often describes his chores, tweeted back: "You know you've made it when someone makes a parody account of you".
The account started in July 2013 and has almost 600,000 followers.
Milner has gained 113,000 followers since Thursday.
He started with this tweet:
The Boring James Milner account responded:
The parody tweets often refer to 32-year-old Milner doing the ironing or having inane conversations with teammates and managers.
The real Milner's debut tweet is not the first time he has poked fun at himself.
In 2014 while at Manchester City, the club made a video of him opening Christmas presents including kitchen utensils, stationery and a shovel which the midfielder said were "marvellous".
---
Who is James Milner?
Milner started his career in his home city at Leeds United joining Newcastle United in 2004.
A spell at Aston Villa then followed before Manchester City signed him for a reported £26m in 2010.
He won two Premier League titles, an FA Cup and the League Cup at City before moving on a free transfer to Liverpool in 2015.
He played for England 61 times scoring one goal before announcing his international retirement in 2016.
His professionalism on the field and lack of drama off it earned him the reputation for being boring, although managers and players have praised him.
He has been happy to play along with the boring joke.
---
Other Twitter users have also welcomed the real Milner on to the social media platform.