Kraft UK boss reassures Fairtrade and British staff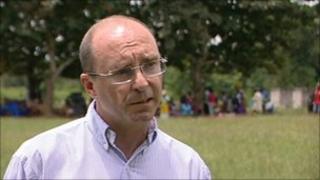 Sitting under the shade of a tree in the Ghanaian village of Mensakrom the president of Kraft UK, Nick Bunker, was welcomed with speeches and gave one himself.
Among the chickens and the children, there was also song and dance and some locally brewed palm wine.
Kraft may well be a company worth £11.5bn following the takeover of Cadbury, but the president of its UK operations can cut a rug with the best Ghanaian dancer.
But beyond the dancing and tradition the cocoa farmers here are as interested as any other Cadbury worker in what Mr Bunker has to say to them.
He is on a trip to the west African country look at the impact of Fairtrade - a year after Cadbury Dairy Milk began using Fairtrade products.
Better beans
Mensakrom is a Fairtrade village and Mr Bunker went to some lengths to point out Kraft has no intention of pulling back from Cadbury's Fairtrade commitments.
In this village there are obvious signs of the impact Fairtrade is having.
There is a new well for drinking water and Cadbury has also donated a bicycle to the village.
There are young men farming cocoa here which is unusual in a country where the average age of a farmer is now over 50.
Fairtrade cocoa is worth more and so it is a more attractive business for young people to go into than conventional cocoa-farming.
And the cocoa beans laid out in the sun to dry are visibly of better quality.
This reflects the improved information and education about cocoa these farmers exchange with each other.
People here also hope that the success of Dairy Milk Fairtrade could lead Kraft to introduce Fairtrade products elsewhere.
But Mr Bunker was cautious, explaining that it was not always possible to use Fairtrade and underlining the importance of also using other systems such as the Rainforest Alliance mark.
Boss's Ghanaian name
When asked about Cadbury workers in the UK, Mr Bunker said his primary aim is to grow Cadbury as a company.
He insisted that Cadbury's HQ in Bournville is an "exceptionally important" part of the business, and that the decision to move Kraft's HQ from Cheltenham to Bournville is a vote of confidence in Cadbury's Birmingham workforce.
Mr Bunker also revealed that he was actually born in Ghana and that he has been visiting his birthplace while here with his family.
Although he left when he was still a baby, there was much amusement among his local audience when he revealed he does have a Ghanaian name.
Following local custom, the name was given to him after the day he was born, a Tuesday, and so his traditional name is the word for that day, Kwabena.
It was perhaps one of the more unusual first meetings a Kraft boss has had with his new Cadbury employees.
Responding to comments from Kraft about the future of Cadbury in the Midlands, Joe Clarke from the Unite union, said: "I think it's wonderful news for the workforce.
"There's been a lot of investment in that site. It's a profitable site and we've had a lot of local discussion in relation to continued investment and continued efficiency improvement, so I think it's great news."