Care couple missing with boy, four, sought by police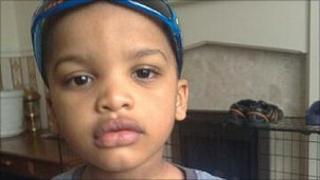 A couple and the four-year-old boy they were looking after are being sought by Lincolnshire Police.
Kanan was on a temporary placement with Darren and Marcia Langton and was due to go back to Newham Children's Services in east London on Tuesday.
They failed to meet social workers and have not been at their home in the Grosvenor Road area of Skegness.
Officers said they had concerns for Kanan's well-being and appealed for anyone with information to help.
Darren Langton, 40, is described as white, slim, with short dark hair and Marcia, 46, is black and of average build with collar length hair.
'Safe return'
Det Insp Andy Wardell described Kanan as of dual heritage or mixed race, with short dark hair, brown eyes and slim build.
He added: "We are now becoming anxious to trace these people and our absolute primary objective is to ensure the safe return of Kanan to children's services.
"We have concerns for Kanan's well being and are wishing to hear from anyone who has any information regarding his current whereabouts."
Police said the couple's current location was unknown, but they were originally from Doncaster.