South East Coast Ambulance Trust sets out savings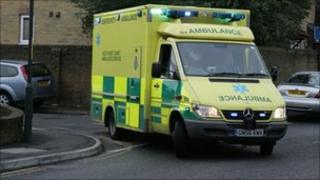 An ambulance service has outlined plans to save £45m over the next five years.
The South East Coast Ambulance Trust, which has an annual budget of £165m, said it was determined to protect frontline services.
It said it planned to increase productivity, reduce employee sickness and carry out a review of its workforce.
The public services union, Unison, said the savings could affect the standard of patient care.
The trust estimates the demand for its services will go up by 5% each year.
'Finite pot'
Sue Harris, the trust's head of operations, said: "We recognise that we have a finite pot of money and our responsibility is to spend that as wisely as possible and to continue to provide a responsive 999 service to local communities."
The trust, which serves Kent, Surrey and Sussex, said it would make £10.7m savings this financial year, and £10.2m next.
Sarah Hayes, of Surrey County Unison, said: "Every trust has been trying to make efficiency savings year on year so where can they find these huge amounts of savings without affecting the patients and the wellbeing of the public?
"It is a myth that there are vast amounts of back office workers sitting doing absolutely nothing. Those efficiency savings have already been made."