Hampshire garden plane crash victims remain in hospital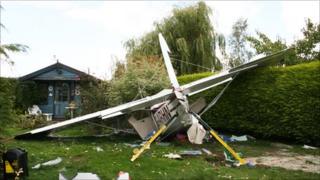 Two men in their 70s who were seriously injured when their light aircraft crashed into a garden in Hampshire remain in hospital.
Both the 74-year-old pilot, from north Hampshire, and the 73-year-old passenger from Dunfermline in Fife, are in a stable condition, police said.
The Piper PA-22 came down in Woodlands Road, Netley Marsh, on Thursday.
The Air Accident Investigation Branch (AAIB) is investigating how the crash happened.
Both men were trapped in wreckage and had to be cut free by firefighters. One had fractures, the other's injuries were thought to be more serious.
Police said the pilot's condition was still critical but the passenger was "making good progress" at Southampton General Hospital.
The plane had flown from Popham to Bembridge on the Isle of Wight and was on its way back when it crashed.
Police have appealed for anyone who witnessed the crash to come forward.