B&B 'conman' sought by Sussex Police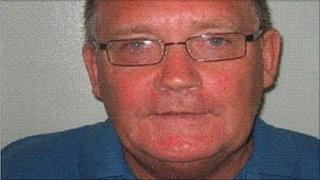 A suspected conman who stays at guest houses but leaves without paying is being sought by Sussex Police.
Police have released a picture of Allan Goodin in an appeal to trace him and said he was known to frequent Hastings.
Officers said there had been two incidents in Hastings. In one incident, cash and jewellery was stolen from the guest house owner's private rooms.
Police said Mr Goodin was wanted for 16 offences of theft and deception across the South East.
Det Con Sarah Richards said: "Allan Goodin is known to frequent Hastings and commit these type of offences while here.
"If he is in your guest house this morning please call us straight away."
She added: "If he has stayed with you at any time, detectives would like to talk to you."
'Different identities'
She said Mr Goodin's modus operandi was to book into a B&B and stay for a number of nights before stealing from the premises, often from the guest house owner themselves, and then make off without paying.
Mr Goodin had booked into B&Bs using a number of different names in the past and was adept at hiding his identity, she added.
She said police were hoping that releasing his picture to the media would help to locate him.
It is thought he booked into a B&B in Bohemia Road, Hastings, in July, where he stayed for a number of nights before breaking into the owner's private rooms and stealing £800 and jewellery valued at more than £1,000, she added.
Police said he had also stayed in another Hastings guest house in September 2009, where he disappeared after staying for three nights, leaving his bill unpaid.