Cornwall and Devon cancer services move plans reviewed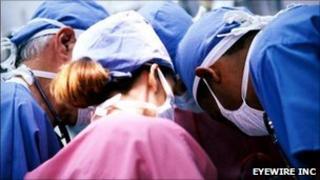 Plans to reorganise some cancer surgery in Devon and Cornwall are to be reconsidered so doctors and the public can have a bigger say in any changes.
New Department of Health rules mean that a previous consultation on the proposal was not extensive enough.
Experts are assessing how surgery for gynaecological and head and neck cancers could be centralised.
Plans for a specialist gynaecological centre for Devon and Cornwall based in Truro had been recommended in December.
The Royal Devon and Exeter is already a specialist hospital and an independent panel had said the Royal Cornwall Hospital should be a second centre.
GP approval
The move would involve more than 100 women a year travelling from Plymouth to Truro for operations.
But that might have to be changed because the Department of Health's new rules say several factors have to be considered before any service changes are made.
Under the rules, any move plans must have support from GPs, who in future will control most local NHS spending.
Plans also must be subject to more public and patient consultation, show clear clinical evidence that they will benefit patients, and offer patients choice.
The Peninsula Cancer Network brings together all organisations involved in the care and treatment of cancer patients, both inside and outside the NHS.
It is in charge of any possible moves and said it would take its time to ensure the best decisions were made.
Anthony Farnsworth, of the network, said: "We're working to put in place the best possible platform for changes to these services."