HS2 protester to complete Birmingham to London walk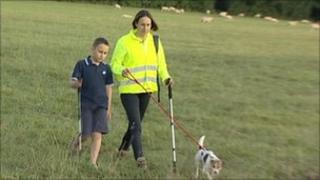 A woman who has been walking the length of the proposed high-speed rail link (HS2) between London and Birmingham has finished.
Lizzy Williams, 36, is reached London Euston station at lunchtime, 23 days after she began her walk in Lichfield, Staffordshire.
She has been joined by fellow campaigners against the proposals.
Ms Williams, who lives close to Banbury, said the plan would destroy many areas.
She said: "We are not talking about a conventional railway here, it will be the largest transport corridor in the country and will destroy everything we value along the way - homes, jobs, businesses, communities, heritage, environment, peaceful enjoyment, everything."
Fellow campaigners
Ms Williams, a former land and project manager for a construction company, was involved in a car crash two years ago which left her with weakness to the left side of her body and the need to get a lot of sleep.
She completed the walk by staying with fellow campaigners along the way as well as being taken home some nights.
The proposed railway route was announced in March and is scheduled to go from London's Euston Station, to just south of Aylesbury, up to between Coventry and Kenilworth, and then into a new station in the Eastside area of Birmingham.
The track will be designed to carry trains at up to 250mph, cutting the London to Birmingham journey time to 49 minutes.
She began her walk north of Lichfield Golf and Country Club, Staffordshire, the northernmost point on the published Department for Transport maps.
Other protest days organised by the group take place in Twyford, Aylesbury and High Wycombe on Thursday.
Ms Williams also intends to walk from the proposed Curzon Street Station in Birmingham to the Conservative Party Conference on 4 October.