Hovercraft crew mark 10 years since final Dover flight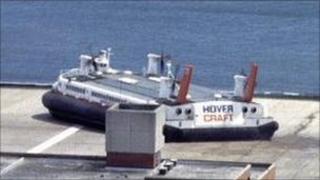 Up to 200 cross-Channel hovercraft crew are to mark the 10th anniversary of the service being withdrawn.
The ex-employees, including Captain Nic Dunn who piloted the last craft, will meet up at an event in Dover later.
On 1 October 2000 Capt Dunn brought the last hovercraft on to the beach outside the town's former Churchill Hotel where the first vehicle landed in 1959.
Over a 33-year period millions of passengers were carried across the Channel by the craft.
The vehicle, which was invented by Sir Christopher Cockrell, often completed the 26-mile voyage in less than 35 minutes.
Competition from the Channel tunnel, and the end of duty-free alcohol and cigarettes, meant the service became uneconomic and it closed in 2000.
The only remaining passenger hovercraft travels between Portsmouth and Ryde on the Isle of Wight.
However there are plans to introduce a service between Edinburgh and Fife across the Firth of Forth.
Transport giant Stagecoach ran a pilot project on the route in summer 2007 and last year the City of Edinburgh Council invited proposals from private contractors wishing to operate a service.