Red Arrows swap jets for scooters in charity ride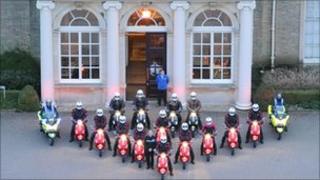 The Red Arrows display team is travelling through Shropshire on Vespa scooters on Friday as part of a charity ride from Lands End to John O'Groats.
They hope to raise £25,000 for several different charities and colleagues from the Battle of Britain Memorial Flight are riding with them on black Vespas.
The group started out on Thursday and arrived in Worcester later visiting West Mercia Police headquarters.
They said they hope to reach John O'Groats on Sunday.
Charities 'hard-pressed'
Squadron Leader Ben Murphy, Commanding Officer of the Red Arrows, said: "We thought if we're not flying in the air, then we'll do something to help on the ground.
"We've had some red, white and blue smoke coming out of back of the Vespas this morning, so we are sticking true to our Red Arrows hearts."
Squadron Leader Ian Smith, Commanding Officer of the Battle of Britain Memorial Flight team, said charities were "hard-pressed" at the moment.
"There are a lot of charities out there that are hard pressed for money, but we are rather hoping that, because of what we are doing, we should be able to raise a goodly sum of money.
"The target is £25,000."