Durham and Teesside students in tuition fees protests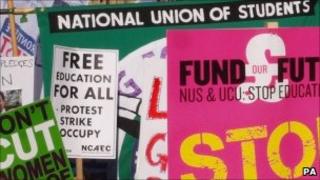 Hundreds of students have protested in Durham and Teesside against plans to raise tuition fees.
About 500 Durham University students marched from the city's market square to Durham Cathedral, where they held a protest rally.
The demonstration, sanctioned by the national Union of Students (NUS), is over government plans to increase tuition fees to £9,000 a year.
A smaller protest by Teesside University students also took place.
Police described the Durham protest as "noisy but peaceful."
Pupils at some sixth form colleges were also due to take part in protests.
President of the Durham University Student's Union Sam Roseveare said: "This is about demonstrating that students actually care about these issues.
"The important thing to remember is that these planned cuts don't affect current students at all. The reason we are protesting is for the next generation."