More snow and ice to hit North East and Cumbria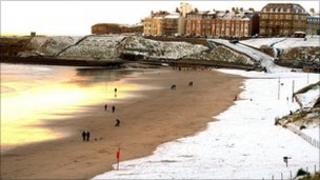 The Met Office has warned more snow and freezing temperatures will hit the North East and Cumbria overnight.
It says another 5-10cm (2-4ins) of snow is expected near the coast of Alnwick.
Police have urged people to stay indoors and only venture out if it is an emergency.
During Saturday, the A1 was badly hit by snow, as was the A1061 and the A196. In Cumbria travel was not affected but sporting fixtures were called off.
Some flights and rail and bus travel have also been affected.
The Met Office reported 35cm (14ins) of snow in parts of Northumberland.
Flights to and from the North East region's airports were affected. Airport management urged passengers to check with their airline.
Sport cancelled
Rail travel has also been affected. East Coast said commuters should expect delays and cancellations because of poor weather conditions.
A number of sports fixtures were cancelled across the North East and Cumbria.
The poor weather conditions have continued over the past few days.
On Friday more than 30 schools in Northumberland were closed. A number of schools on Tyne and Wear and Teesside were also shut.