Stone-curlew numbers on the rise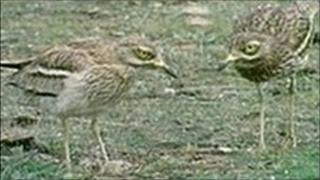 A rare farmland bird has more than doubled its breeding pair numbers in England in the past two decades, conservationists have revealed.
Stone-curlew numbers fell to just 160 pairs in Norfolk and Suffolk and Wiltshire in the 1980s.
This year, 370 pairs of the ground-nesting bird are known to have bred, a recovery which the RSPB puts down to conservation groups and farmers.
The RSPB is worried cuts in government support will hit the recovery.
The dove-sized, long-legged wading bird increased its population by 11 pairs in the past year and breeding success jumped from 164 chicks in 2009 to 240 chicks in 2010.
'Protect sites'
Dr Mark Avery, the RSPB's director of conservation, said: "Farmers have rallied to the cause of the stone-curlew and the bird's UK recovery owes much to their support.
"Stone-curlews often choose fields where nests and young can be lost to routine farm operations.
"The RSPB helps farmers identify threatened sites and protect them."
Under the government's Higher Level Scheme, farmers receive support to manage parts of their fields for stone-curlews.
Dr Avery said: "We target the right management measures to the places where it can make the most difference, and it works.
"The RSPB wants to see more heathland and downland, the traditional open habitats where stone-curlews breed, brought into good condition."
Progress set back
He said he was pleased the government "largely protected" the Higher Level Scheme budget in the recent Spending Review but was concerned about possible future cuts.
"We were pleased that the Government largely protected the budget for the Higher Level Scheme in last month's spending review, in the medium term.
"However, we are concerned that the recent temporary freeze in new agreements will mean that some farmers who were ready to introduce measures for stone-curlews next spring will miss out.
"This would be a setback to recent progress."