Ian Griffin to be extradited to France over hotel death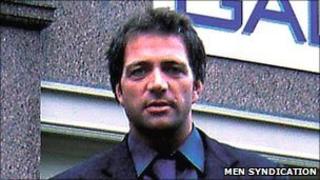 A British businessman arrested over the death of his girlfriend in a Paris hotel room will be extradited to France, a court has ruled.
Ian Griffin, 41, from Cheshire, will now face charges over the killing of millionairess Kinga Legg.
On Friday a judge at City of Westminster Magistrates' Court ruled he must return to France.
The battered body of 36-year-old Ms Legg was found in a room at Hotel Le Bristol in May 2009.
She was found "battered and bruised" in the £1,000-a-night suite at the exclusive hotel, the court heard.
Mr Griffin, from Warrington, had refused to consent to the extradition.
But District Judge Daphne Wickham ordered it should go ahead despite his attempt to take his own life with a drug overdose on 18 November.
Arrest warrant
Mr Griffin is being treated at St George's Hospital in Tooting, south London, for kidney problems and did not appear at his hearing.
He was admitted two weeks after taking the overdose in an apparent suicide bid, the court was told.
His lawyer, Matthew Butt, asked for the case to be adjourned but the judge dismissed the appeal.
She said: "It is my conclusion that, on all the evidence before me, I cannot accept that there is a certainty of suicide.
"It would not be oppressive to extradite."
After refusing to give his consent to extradition last year, the hearing at City of Westminster Magistrates' Court was further postponed when Griffin was deemed "unfit" to appear in court.
District Judge Wickham's judgment said Mr Griffin was addicted to alcohol and prescription drugs, and suffered with depression, anxiety and mood swings.
But psychiatric reports, ordered after he was initially declared unfit, said he was fit to plead.
The judge said: "He has a remarkable ability to absorb information. He is well able to communicate."
Mr Griffin, who ran tanning salons and gadget shops in the north west of England, was declared bankrupt in 2006.
A European arrest warrant was issued for Mr Griffin after a maid found Ms Legg's body in the bathroom of their hotel suite on 26 May 2009.
He was found about one week later in woodland in Macclesfield, Cheshire, where it is believed he had been living rough.
Polish-born Ms Legg lived in Knutsford and had businesses listed in Cheshire.
She owned international company Vegex, which supplied Tesco and other supermarkets with tomatoes.