Thames Valley festive drink-drive arrests double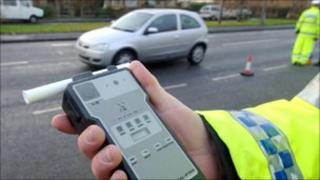 The number of drink-drive arrests in the first five days of Thames Valley Police's festive campaign has almost doubled from the same period last year.
A total of 52 people have been held since the month-long crackdown began last Wednesday - compared to 27 arrests in the same period in 2009.
The highest reading was more than three-and-a-half times over the limit.
It comes after this year's Christmas drink-drive TV adverts were scrapped because of government budget cuts.
Supt Rob Povey said: "It is very disappointing to see this year's figures already higher than those recorded last year.
"Of those arrested so far, 45 were men and seven were women. They have ranged in age from 17 to 70 years old.
"I want to warn all drivers that our targeted road checks will be continuing up to and over the Christmas and New Year period so the message is simple, if you drive under the influence of drink or drugs, expect to face the consequences."
Of the 52 people arrested, 33 have been charged and will face a court hearing, 13 people have been released on bail and no further action will be taken against six people.
Fourteen were held in Oxfordshire, 22 in Berkshire and 16 in Buckinghamshire.