Road repairs 'may cost up to £1m'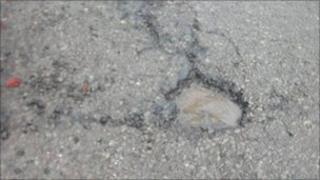 Up to £1m may have to be spent by a West Midlands council to fix potholes after the recent cold weather.
Sandwell Council revealed the scale of the problem as the Asphalt Industry Alliance, called for planned renewal work so potholes "never appear".
Meanwhile, Staffordshire highways inspectors have found about 600 new road defects since 1 December.
Coventry City Council said it has doubled the amount it spends on repairing roads over the last year.
Colin Loveday, from the Asphalt Industry Alliance, said: "Waiting for potholes to appear and then repairing them is very slow and very expensive and not very effective.
"What's needed is a programme of planned renewal, planned maintenance, so potholes never appear."
Worcestershire County Council said inspections by highways maintenance teams would be stepped up.
Telford & Wrekin Council said it anticipated it would have four teams working to repair potholes.