Hastings council staff told of cuts impact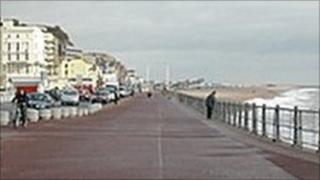 Staff at Hastings Borough Council have been told 46 posts are to be lost at the authority following cuts in government grants.
About 500 council staff attended a special meeting where they were told about the changes ahead of Friday's publication of a draft budget.
The Sussex council is to lose a third of its funding over the next two years.
Council leader Jeremy Birch said he hoped compulsory redundancies could be kept to single figures.
After the government announced the spending cuts, Councillor Birch said the seaside town was "in the premiere league of council cuts".
He said the 46 posts would be permanently lost, but half of those were currently vacant.
Mr Birch said: "I cannot guarantee in future years we won't have to revisit our staffing numbers because this is a four-year deficit reduction programme that the government is inflicting on us.
'Staff anxious'
"In fact, by year three we will be receiving 50% less government grant than in the current year.
"There is no way we can guarantee jobs and services with a reduction of that number."
The public services union, Unison, said the council leadership had "clearly done a great deal" to keep compulsory redundancies to a minimum.
A spokesman said: "Staff in the council have been anxious to know what is happening to both themselves and their colleagues.
"This is clearly a difficult time for the whole council."
Amber Rudd, the Conservative MP for Hastings and Rye, said: "These cuts are a challenge for us all.
"I am encouraged that they expect to keep compulsory redundancies to a minimum."